Here I am on Day Four of my stint as Guest Designer this month over at The Craft's Meow! 
In addition to promoting the 2012 Spring Release, The Craft's Meow is turning a year old this week!
But here's a twist: Today is MY birthday, too! (And I am a LOT older than TCM, I'm sad to admit - hee-hee!) So happy birthday to all of us who were fortunate to be born on the first day of spring! (Or perhaps, it was our births that made the world sit up and declare a celebration was in order and that winter was officially finished!)
You never know. It could have happened that way.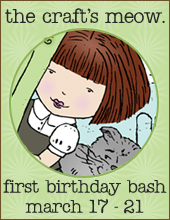 Today's featured set is Thanks Bee to Thee, designed by Nina B Designs for The Craft's Meow! And to share the birthday love, The Craft's Meow is offering this stamp set as a free gift with any stamp purchase of $50 or more. 
As a little side note, this is my favorite set from the new release because (1) it's awesome in every way - especially in its versatility; and (2) it's got bees. I have always loved bees and their life lessons. You can imagine how thrilled I was when I learned at the age of twelve that my name means "bee" in Hebrew.
Today we have a Theme Challenge: Celebratory, of course! 
The rules for the Celebration Challenge are posted on the TCM blog; the deadline is 9:00 pm, PDT, Saturday, March 31st.  The prize for the Birthday Theme Challenge will be a guest designer spot for TCM, randomly chosen. Wooo-Whoooo!!!
I'm a bit annoyed that I couldn't get a better picture of this card! I used my favorite embossing-on-watercolor-paper-Ranger-Distress-inks-Perfect-Pearls technique, and in person it's lovely. Here, it looks a little garish. I'm going to take another picture of it later this morning in different light and see if I can get a better shot. If I'm successful, I'll upload it here so you can see the difference. 
Well, I re-took the picture. It's a little better since the yellow taint is less - lol! However, the rosy tints have eluded capture once again!
Paper: Copper Soiree Shimmer paper (Memory Box), watercolor paper (Swathmore); Inks: Embossing, Evergreen Bough, Old Paper, Rusty Hinge, Tattered Rose, Tea Dye, Tumbled Glass, Wild Honey (Ranger Industries); Other mediums: Seafoam White embossing powder, Biscotti Perfect Pearls (Ranger Industries); Accents: flower (Prima), gems (Mark Richards); Fibers: ribbon (Ribbon Boutique); Other: pop-dots; Tools: heat tool, craft sheet, foam ink applicators (Ranger Industries)
If you'd like to see other cards made by The Craft's Meow Design Team and my fellow Guest Designer, Amy Kolling, check 'em out:
Make sure to leave a comment today at The Craft's Meow Blog to enter for a chance to win  each day's stamp set! The deadline to leave your comments is 9:00 pm PDT, Friday, March 23rd.
(And the rest of us wouldn't mind a comment left on our own blogs, either!)
Have a blessed day and thanks for stopping! Come back tomorrow for the Big Finale: a fantastic BLOG HOP!!!